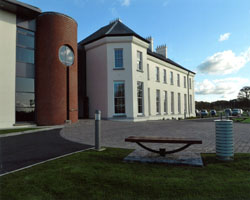 The Directorate is responsible for most of the administrative and transactional HR functions for all Garda members and Garda staff. Among the HR functions administered in Athlumney House are pay & pensions; sick leave and other leave schemes; records, data protection and file management; and administration and statistics. In addition, the HR Directorate plays a leading role in other civilian HR matters such as resource management, discipline and industrial relations. 
The Garda Commissioner is the appropriate authority for Garda staff. Apart from the administrative support duties in Garda Stations and offices, Garda staff are involved in the provision of essential roles in a wide range of managerial, professional, technical and industrial functions. Civilianisation has also enabled the establishment or expansion of some vital services which are wholly or largely provided by Garda staff – including the Garda National Immigration Bureau, the Garda Information Services Centre, the Garda Central Vetting Unit, the Fixed Charge Processing Office and the Communications Centre.
Garda and Garda Staff Numbers
The Garda strength as at 31 August 2023 stood at 13,910 (13,689 WTE) and the Garda staff strength as at 31 August 2023 stood at 3,342 (3,146.8 WTE). A full breakdown by rank and grade is outlined under the tables 'Garda Numbers' and 'Garda Staff Numbers'. 
• Work continues on resourcing additional and new Garda staff posts based upon prior sanctions for recruitment received from the Policing Authority.
• The Workforce Plan is continuing to be refined and revised in consultation with the Policing Authority and Departments of Justice and Equality and Public Expenditure & Reform who are anxious to ensure the visibility of the Garda Reassignment Initiative and progress on the workforce modernisation agenda.
Please note the footnotes on each table which identify that the information provided is reflective of that information available to the Garda HR Directorate at a point in time and may vary due to operational requirements. Consequently, please be aware that figures provided are current as of the table's date and ARE PROVISIONAL FIGURES AND SUBJECT TO CHANGE.