Back to list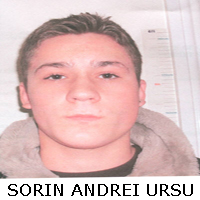 Name: SORIN ANDREI URSU
Date Missing: 20/04/2006
Gender: Male
Height: 6'2" - 188 cm
Build: Weight: 65 kg (143 lbs)
Hair Colour: Light Brown
Further Information:
Date of birth: 18 January 1991.

Case Type: Concern for Welfare.  Case Number: IRGSMK2606.

Missing City: DUBLIN.  Missing Country: Ireland. 
 
Sorin Andrei Ursu, a Romanian national is missing from his accomodation at Sandford Road, Dublin 6.  Sorin has poor English and may be in the company of another Romanian national, Alexander Vlasie.  When last seen, Sorin was wearing a dark tracksuit.