Back to list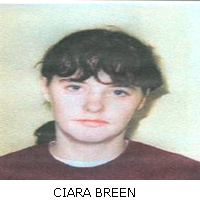 Name: CIARA BREEN
Date Missing: 13/02/1997
Gender: Female
Height: 5'4" - 163 cm
Build: Weight: 112 lbs (51 kg)
Hair Colour: Black
Further Information:
 
Date of birth: 31 March 1979

Case Type: Missing From Home.    Case Number: IRGSMK4 
 
Missing City: LOUTH.    Missing Country: Ireland.

Ciara Breen is missing from her home at Dundalk, Co. Louth, since the 13th February 1997. When last seen she was wearing a black leather jacket, dark blue jeans, wine coloured sweat shirt, white T-shirt depicting a girl surrounded by lifeguards with her own face superimposed on the T-shirt.