Back to list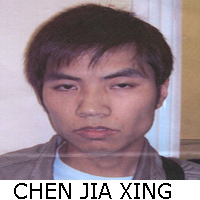 Name: CHEN JIA XING
Date Missing: 25/10/2007
Gender: Male
Height: 5'5" - 167 cm
Build: Weight: 154 lbs (70 kg)
Hair Colour: Auburn
Further Information:
Date of birth: 27 February 1990. 
  
  
Case Type: Concern for Welfare.   Case Number: IRGSMK0723.

Missing City: DUBLIN.  Missing Country: Ireland. 

Chen Jia Xing a native of China is missing from South Dublin since 25th October 2007. When last seen he was wearing a grey/silver jacket, blue denim jeans and white runners.