Back to list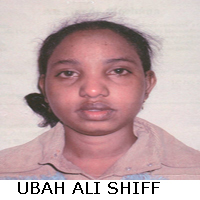 Name: UBAH ALI SHIFF
Date Missing: 30/05/2006
Gender: Female
Height: 5'3" - 162 cm
Build: 60 kg (132 lbs)
Hair Colour: Black
Further Information:
Date of birth: 5 February 1989. 
 

Case Type: Missing From Home.   Case Number: IRGSMK2906.


Missing City: DUBLIN.  Missing Country: Ireland.


Ubah Ali Shiif, a Somalian national is missing from her accomodation on North Circular Road, Dublin.  Ubah is know to sometimes spell her surname as: Shiek or Sheek.