Back to list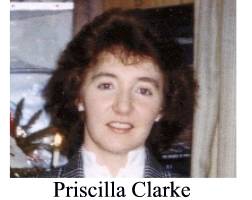 Name: Priscilla Clarke
Date Missing: 03/05/1988
Gender: Female
Height: 5'6" - 167cm
Build: Medium
Hair Colour: Red to auburn
Further Information:
Date of birth - 10/8/62.
Priscilla Clarke is originally from Edmondstown, Ardee, Co Louth, but at the time she went missing she was working at Ballyorney House, Enniskerry, Co Wicklow.
Priscilla went missing on the 3rd May, 1988 in Enniskerry, Co. Wicklow.   On the day in question it is known that she went out horse riding near the Dargle River and is believed drowned and lost in the Dargle River near Powerscourt Estate. 
Ms. Clarke was accompanied at the time by another female whose body was recovered from the river on the 5th May, 1988.