Back to list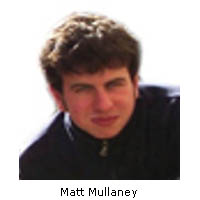 Name: Matthew Mullaney
Date Missing: 01/02/2003
Gender: Male
Height: 5'10" - 1.78
Build: Not Specified
Hair Colour: Dark brown hair
Further Information:

Date of birth - 5/11/81.  Gardaí are assisting Italian Police in an effort to trace the whereabouts of Matthew A. Mullaney, an American student, who was reported missing in February 2003.
Matthew travelled from Connecticut, USA, to Florence, Italy in early January 2003 to study at the Angell Academy of Art for one semester.
He was last seen in Florence on 1st February. His family have not heard from him since.
Information suggests that Matthew had indicated a desire to visit Dublin. There have been two possible sightings of him since he was reported missing - one on a train from Dover to London and the second on a ferry from Holyhead to Dublin. The latter sighting was on July 23rd 2003.
Matthew is described as 5'10 in height, with dark brown hair and hazel coloured eyes. He has pierced ears (but no earrings) and a tattoo of a flaming shamrock on his upper back.