Back to list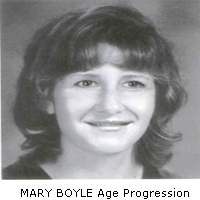 Name: MARY BOYLE - Age progressed
Date Missing: 18/03/1977
Gender: Female
Height: 3'11" - 119 cm
Build: Weight: 49 lbs (22 kg)
Hair Colour: Light Brown
Further Information:
Date of birth: 14 June 1970  

Case Type: Missing From Home.  Case Number: IRGSMK1  


Missing City: DONEGAL.  Missing Country: Ireland.  
 


Mary Boyle is missing from her Grandmother's home at Ballyshannon,  Co. Donegal, since the 18th March 1977. When last seen she was wearing a lilac coloured hand-knitted cardigan, brown jeans and black wellington boots.