Back to list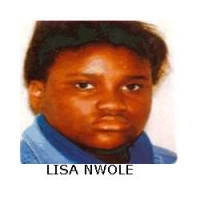 Name: LISA NWOLE
Date Missing: 12/10/2002
Gender: Female
Height: 5'8" (173 cm)
Build: Weight: 140 lbs (64 kg)
Hair Colour: Black
Further Information:
Date of birth: 11 December 1985.  

Case Type: Missing From Home.   Case Number: IRGSMK8.

Missing City: DUBLIN.  Missing Country: Ireland. 

Lisa Nwole is missing from her home at Tallaght, Dublin 24, since the 12th October 2002. When last seen she was wearing a denim skirt, a wine coloured lace top and black shoes.