Back to list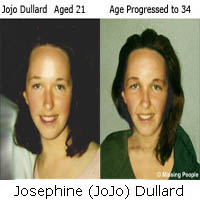 Name: Josephine (Jo Jo) Dullard
Date Missing: 09/11/1995
Gender: Female
Height: 5'4" - 163 cm
Build: Medium Build
Hair Colour: dark shoulder length
Further Information:
Date of birth - 25/1/74.  Josephine Dullard has been missing since 11.30 p.m. on Thursday, 9th November, 1995. At that time Jo Jo phoned her friend from a phone box in Moone, Co. Kildare. She told her friend that she was hitching a lift from Moone to her home in Callan, Co. Kilkenny.
A short time later a woman answering Jo Jo's description was seen leaning in the back door of a dark coloured Toyota Carina type car. There were further sightings of a woman similar to Jo Jo in Castledermot, Co. Kildare which is 5 miles from Moone at around midnight on the same evening - Thursday 9th November, 1995.
The driver or occupants of this Toyota Carina type car have never been traced.
Jo Jo is described as 5'4" in height, medium build, dark shoulder length hair. She was 21 years when she went missing