Back to list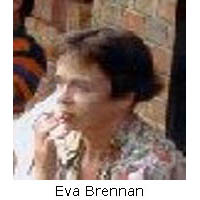 Name: Eva Brennan
Date Missing: 25/07/1993
Gender: Female
Height: 5'7" - 1.70 cm
Build: Slim build
Hair Colour: Short mid brown hair
Further Information:
Date of birth - 1953.  Gardai at Terenure Station are seeking assistance in tracing the whereabouts of Eva Brennan of Madison House,Terenure. She is missing since the 25th of July 1993.
At the time of her disappearance Eva was described as being 40 years of age but looking younger, 5'7" ,of slim build and having short mid brown hair and blue eyes.
When last seen she was wearing a pink tracksuit and leggings, she wore a man's wristwatch with a brown strap and carried a red leatherette handbag about 8"x10" with a flap to the front.