Back to list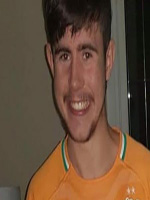 Name: Dylan Keogh
Date Missing: 10/01/2019
Gender: Male
Height: 5'8"
Build: Brown
Hair Colour: Black
Further Information:
Gardaí at Clontarf Garda Station are continuing to investigate the circumstances surrounding the disappearance of eighteen year old Dylan Keogh who has been missing from his home since the 10th January 2019.  
Dylan has no access to money or a phone.  His family are extremely concerned for his safety.  Dylan outlined to his family that he was going away for a week and not to worry.  He has not returned and on leaving the house he took a black racer bicycle and a black puma school bag with clothes. 
Gardaí attached to Clontarf Garda Station are investigating Dylan's disappearance.  As a result of their enquiries, there was a confirmed sighting of Dylan on the Clontarf Road on the 10th January 2019 at approximately 10:30pm.  
The Investigation Team have now recovered Dylan's bicycle which was located on Dollymount Beach (near the wooden bridge).  This bicycle was found on the 14th January 2019. 
Dylan's black puma bag was also recovered on Dollymount Beach (near the wooden bridge) and was located on the 11th January 2019.  The bag had been on the sand and in an area that the tide had come in. 
When Dylan was last seen he was wearing a navy Bruce Lee overalls, black runners and a blue bandana on his head.  His last known sighting was on the slipway on the Coast Road, Clontarf, opposite Dublin Bus.  He had been in the water and the time was approximately 10pm.  
Dylan Keogh frequented the Clontarf Area and would be known to people in this area.  He would regularly cycle from Ballymun to this area and swim in the sea.
Appeal: 
Any person who spoke with Dylan during his visits to Clontarf (We would be looking to establish what he was at down here in case there were any other activities etc.).
Any person who spoke or saw Dylan on 10th \ 11th January 2018, the days of his last known sightings.
Any person who observed Dylan's bicycle on Dollymount Beach.
Any person who observed Dylan's bag on Dollymount beach.
Dylan's flag has not been recovered and it was not in his bag.  It is quiet distinctive and any person who may have seen it discarded anywhere.
Where did Dylan travel to when he was last seen at the slip way.  We know there were people walking in the area at the time and we also know that not everyone has come forward.
Clontarf 01 666 4800