Back to list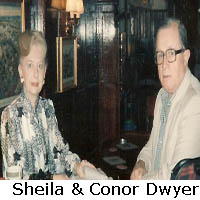 Name: Conor and Sheila Dwyer
Date Missing: 30/04/1991
Gender: Male and female
Height: Not Specified
Build: Not Specified
Hair Colour: Not Specified
Further Information:
Conor and Shiela Dwyer from Fermoy have been missing since 1991. They lived at Chapel Hill, Fermoy, Co. Cork.
They were last seen at St. Patrick's Church in Fermoy on 30th April 1991. Some days later Gardai were notified that the couple were missing. The Gardai went to the Dwyer home and found the house secure and all personal items such as clothes, passports and money still in the house. However their car, a white Toyota Cressida registration number 5797 ZT was not at the house and has not been located to date.
The couple were aged in their early sixties when they went missing.