Back to list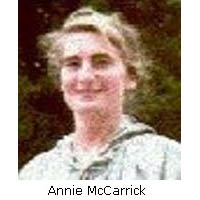 Name: Annie McCarrick
Date Missing: 26/03/1993
Gender: Female
Height: 5'8" - 1.73 cm
Build: Not Specified
Hair Colour: Short mid brown hair
Further Information:
Annie McCarrick, an American national has been missing from her home at Sandymount in Dublin since Friday 26th March 1993. On that day she left her house to go walking in Enniskerry.
There were sightings of a woman answering Annie's description on the No.44 bus which goes to Enniskerry at about 3.30 p.m. on that afternoon and later on that evening a sighting at Johnny Foxes Pub in Glencullen.
Annie is described as 5'8" in height, 10 stone, long brown hair. She speaks with a soft Irish-American accent