Back to list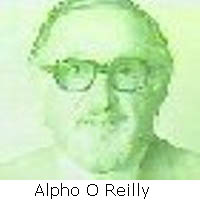 Name: Alpho O Reilly
Date Missing: 02/01/1996
Gender: Male
Height: 5'10" - 1.78 cm
Build: Not Specified
Hair Colour: Not Specified
Further Information:
Date of birth - 1922.  Gardaí at Irishtown, Dublin are appealing for any information that might help establish the whereabouts of Alpho O'Reilly from Sandymount, who has been missing since January 1996.
Alpho lived alone at Strand Road, Sandymount and was aged 73 when it was discovered he was missing. His car, a green Mitsubishi Colt, registration no 95 D 6446 is also missing and has not been located to date.
To date, all avenues of enquiry have been exhausted in an effort to locate Alpho O'Reilly and his car. His disappearance has been featured on the R.T.E. Crimeline programme on a number of occasions, without any significant new information being received. We cannot rule out the possibility that he may have left Ireland.
Alpho O'Reilly is described as 5'10" in height, had slight difficulty walking, had an educated/refined accent, was a smoker and suffered from amnesia.