Back to list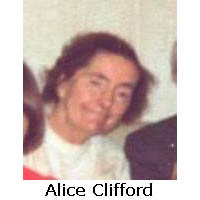 Name: Alice Clifford
Date Missing: 28/11/1979
Gender: Female
Height: 5'2" - 1.57 cm
Build: Not Specified
Hair Colour: Brown curly hair
Further Information:
Gardai at Lucan, Co. Dublin are appealing for public assistance to help trace the whereabouts of 85 year old Alice Clifford, from Ballyfermot, who went missing from St. Lomans Hospital on the 28th November 1979.
Alice is 5'2" in height and weighed 8st at the time of her disappearance. She has brown eyes and had brown curly hair on the date in question. She was wearing a brown skirt with white stripes, a white jumper and a tan coloured cardigan with red slippers at the time. Alice's circumstances was given publicity by news media at the time of her disappearance.