Back to list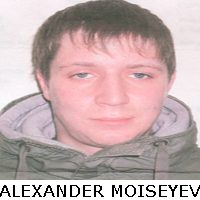 Name: ALEXANDER MOISEYEV
Date Missing: 24/02/2006
Gender: Male
Height: 6'0" - 183 cm
Build: Weight: 160 lbs (73 kg)
Hair Colour: Not Specified
Further Information:
Date of birth: 2 February 1989.
 
Case Type: Concern for Welfare.   Case Number: IRGSMK1006.

Missing City: DUBLIN.  Missing Country: Ireland. 


Alexander Moiseyev a native of Belarus is missing from his accomadation at Sandford Road, Ranelagh, Dublin 6 since the 24th February 2006.  When last seen he was wearing a green/grey jacket.