Back to list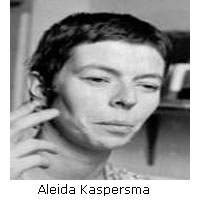 Name: Aleida (Leidy) Kaspersma
Date Missing: 03/07/1978
Gender: Female
Height: 5'6" - 1.67cm
Build: Slim
Hair Colour: Auburn
Further Information:
Date of birth: 8/3/1952
Missing since 3rd July 1978.
Aleida is a Dutch national, slim build, pale complexion, short straight auburn hair.  When last seen she was wearing a blue and white t-shirt, cream woolen jacket, brown corduroy jeans, ¾ length brown boots.
She is fluent in English, German, French and Dutch.